Spark Arresters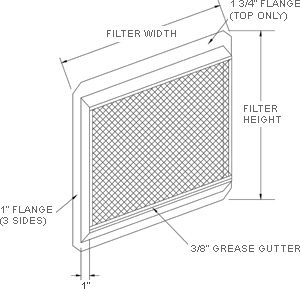 Numerous kitchen area fires have their origin in solid fuel burning operations. This occurs when glowing embers fly up from the burning solid fuels, such as firewood or charcoal, and enter a grease-contaminated hood and duct system. When a mesh-type grease filter (no longer allowed per NFPA 96) is contaminated with grease, it can readily be ignited from a glowing ember lodged against it. The slotted or baffle-type filter can allow embers to pass through the slots in the baffles and start a fire in the grease-contaminated filter plenum (the space behind the filter bank) or in the ductwork leading from the hood.
The NEVTEC spark arrester, when installed in front of a filter, will restrict almost all embers from passing through the filter. (Embers smaller than 1/8 of an inch may pass through but typically extinguish themselves before they come into contact with any flammable materials.)
The spark arresters are easily removed for cleaning and are available in the same sizes as baffle grease filters. Custom sizes can be made for cooking equipment without filters (such as solid fuel ovens) and for non-standard filter sizes.
Spark arresters for solid fuel cooking are required by NFPA 96 (National Fire Prevention Association Standard No. 96) Chapter 14. NEVTEC spark arresters fully comply with the NFPA 96 Standard, 2008 Edition (see Chapter 14, sections 14.1.6 and 14.5.2).
Specifications
The spark arrester frame is constructed of 18 ga stainless steel.

The wire mesh is made of 8 x .028 stainless steel mesh with a 304 finish. It is cut and welded onto the frame.

A grease gutter is built into the bottom of the frame.

The net free area (1/8 inch openings between wire strands) is greater than that of the baffle filter, so the spark arrester does not restrict the airflow and has no impact on CFM calculations.
Custom Sizes Available
Call for quote. Prices are subject to change without notice. All shipments are UPS, COD, FOB Newport, VT unless other arrangements are made. Please allow two weeks for most deliveries.
Standard Sizes:
Height & Width:

16″ x 16″

16″ x 20″

20″ x 16″

20″ x 20″

20″ x 25″

25″ x 20″

 Model Number:

SS161616

SS162020

SS201620

SS202020

SS202525

SS2520
Our Spark Arresters fully comply with NFPA 96
(Chapter 14.1.6 & 14.5.2) 2008 Edition