Hood Systems

NEVTEC hood systems are built to the standard established by NFPA 96 (National Fire Prevention Association, Standard No. 96). This is a much more rigorous standard than the UL (Underwriter's Laboratories) Listing.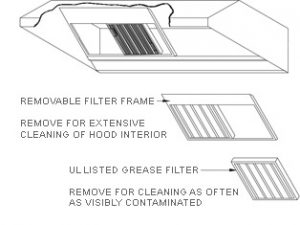 A UL Listing on a hood means that the hood properly captures the smoke and grease-laden vapors emanating from the cooking operation beneath it. The NFPA 96 Standard not only requires that the hood properly capture the smoke and grease vapors but also be constructed in a fire-safe manner (i.e. 18 gauge steel – 20 gauge stainless steel – with continuous, liquid-tight exterior welds). Our hoods are constructed of 18 gauge steel (galvanized or stainless) and all seams and joints have continuous, liquid-tight welds.
To further improve the fire-safety, our hoods are easier to clean than other hoods. As with most hood manufacturers, our baffle filters can be removed for frequent cleaning. However, unlike any other hood manufacturer, our filter frames can also be removed for cleaning. And with the frames removed, the whole interior of the hood is easily accessible for a thorough cleaning – no nooks and crannies where grease can build up and present a fire hazard. (Professional cleaners love our hoods.)
Each cooking line has its own, unique ventilation requirements. We assess each piece of equipment and its manner of use in order to determine the proper hood dimensions and volume of air that needs to be exhausted.
The same technicians who build your system, typically, will install it, so you know that it has been done properly; we guarantee our work for one year (parts and labor).
Even with this personalized attention to detail and custom-built quality, our systems are competitively priced with "off-the-shelf" and catalog hood systems.